Purchase DVD and HD Download of THE PASSION AND THEH CROSS


The Passion and the Cross
THIS EASTER WEEKEND. You can stream THE PASSION and the CROSS on Saturday at 5 PM, and Easter Sunday at 9 AM and NOON (EST). Go to www.myccc.church at those times, turn your sound up, and watch with family and friends. There is NO musical about the life, passion and resurrection of Christ like this one. It is authentic, true to scripture and history, with music and songs people from any culture can relate to. This will truly touch your heart and life. Share this invite, which includes several preview videos for people to watch.

The Passion and the Cross is a one act show ( 1 hour and 55 minutes). This musical is an another enchanting journey back to the first century when Jesus walked the earth. The Passion and the Cross is Brent Grosvenor's follow-up musical to The Passion of the King, which ran for 10 successful seasons. This show features five of the favorite songs from The Passion of the King and seven brand new songs, along with other musical orchestrations that will speak to your heart and keep you riveted to the story. The show begins in Galilee, at the peak of Jesus' ministry, and ends just after His resurrection in Jerusalem. You will hear it all from those who were witnesses to the teaching, miracles and compassion of Jesus Christ. You will hear it all from men, women and children. You are sure to gain beautiful insight into the Scripture along with the teachings and parables of Christ, which includes a moving and elaborate scene featuring all children. Brace yourself for that. Each scene and piece of music is intended to bring God's word and truth to life in a relevant and clear way. Our prayer is that you understand God's love, grace, and holiness and His passion to touch and change your life. What He has done in the lives of people through the ages, He longs to do in your life today. He will save it, change it, and give you wonderful purpose.

Get your tickets today!!!! BUY TICKETS HERE

THE PASSION OF THE KING by Brent Grosvenor
The Passion of the King ran for 10 successful seasons. The New DVD will be available this Easter of 2020.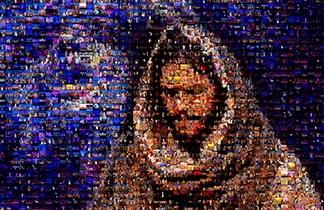 This 2.5 hour musical is an epic and comprehensive show about God's plan for humankind. The scriptures come alive as the audience is taken on a journey through time to observe the beginning of a new kingdom. Learn how God prepared the world and the hearts of people for the coming King of Kings, Jesus Christ. Discover why He was called the Lamb of God and proclaimed as the Lord of all. See and feel His compassion for the masses as He goes against the tides of culture and tradition in order to heal the brokenhearted. Find out why He changed the world. Journey with us to the time of the most influential person in human history. Return to ancient times with a modern-day Thomas and get enveloped in this musical, with its cinematic score, high-energy songs and beautiful ballads. Revisit the days of Abraham, King David, the prophet Isaiah, the disciples of Jesus, and the women and children who put their hope in the Messiah. See why they adored Him and how they paved the way for future generations. Come back with us to hear His teachings and take part in His triumphal entry into Jerusalem. Experience His arrest, trial and crucifixion and witness His resurrection from the grave. This is the story of how the passion of a loving God became the passion of a mighty King. "Quality theater… sweeping and personal." Paul Cozby – About.com/New York Times Read About.Com review by Paul Cozby Interview With Brent
PILLARS OF FIRE DVD IS HERE
Filmed in HD with a cast of 70. Includes beautiful 8 page foldout booklet with additional reading and scripture references to enhance your learning and your experience. Includes Spanish subtitles and English Closed Caption.
If you are interested in licensing "The Passion of the King" or any other show and perform it in your town, contact us at (860) 305-1061 or email us at