We finally captured this amazing musical on video and the video is in production. Our release date is now March of 2016.
A STORY OF ROMANCE, REVENGE AND REDEMPTION.
With much hard work and many obstacles, "Lost in Vegas" has now been performed in six cities since it's initial launch. Nearly 12,000 people have seen the show. Our latest road trip was to Western Ohio (Botkins) in November of 2013. As we look back, we can say that the responses were all the same. The masses were stirred, touched and challenged on many levels. People of all ages and walks of life LOVE this musical. The crowd responses involve tears, laughter, gasping and cheering with standing ovations at every performance. If you want to produce this show in your community, call now for licensing and information.
On the Road and More…
FROM THE WRITER OF THE SHOW
CLICK HERE
This show has been many years in the making; a musical and poetic work of art drawn from real life and the experiences of many people. Several of them are friends in Las Vegas, who were willing to tell me their stories. They shared life's hardships and victories, the highs and lows, their good and bad choices along with the consequences, which all led to where they are today. I am grateful for their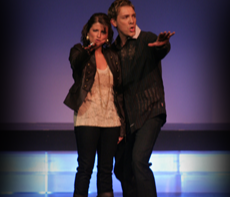 honesty and transparency. These people include police officers, prostitutes, casino managers, counselors, waitresses, bartenders, addicts, bell hops, wealthy gamblers, and tourists looking for a good time. Most of this story is built on the true circumstances of a casino owner, drug dealer/pimp, a former call-girl, and a cousin of mine who currently works undercover for the FBI. No part of it is embellished for dramatic effect. Their stories have been woven together in this live tapestry entitled "Lost in Vegas."
Life is made of stories told of you and I
The best ones are of Love
Are they a window for lookingthrough?
OscarMichelleInto a place or into a world
Beyond our space and time
To be discovered
On the other side
Of the veil
Lost in Vegas is ultimately about all sons and daughters on the same journey as part of this epic story called life. It centers around the world of a casino billionaire's son, Oscar Wilde, and his relationship with Michelle Bancroft, the love of his life and the only person he trusts. As this story unfolds, you will be introduced to Oscar's struggles and the world of Las Vegas – the city of lights – the city that never sleeps. The scene expands as you get to know Oscar's father (Blaise Wilde), meet a former drug dealer, (Tyler Dey), a washed-up business man (Harry Trudeaux), a call-girl (Jess Valentine), the sister of a murdered call-girl (Darla Belafonte), local homicide detectives (Keith and Sal), Michelle's cousin (Freddy) and another wealthy son (Cameron DeYoung) who wants nothing to do with his father (Jack DeYoung). The paths of these men and women cross and become twisted and intertwined into one grand tapestry. Each decision and each new friendship ripples far beyond what one can imagine. Their worlds are pulled into one as a result of the investigation of Jennie Belafonte's murder. Everyone wants to know the truth, some want to make things right, and others only want to further their own agenda. In the end truth and love win.
Oscar is named after the late 19th Century writer and poet (1854-1900) . His writing was genius, provocative and enlightening, but his personal life was all about pleasure-seeking and sensual living. Underneath it all he had serious life-questions and often wrote about spirituality and the one he referred to as "The Christ." Blaise Wilde takes his philosophical and moral views from the late Irish poet with no concern over spiritual matters. His son, who bears the same name, is also a writer and artist of sorts. He has had his own share of pleasure-seeking, but following several years of drug abuse and wild, scandalous living, he's now consumed with finding answers to life's toughest questions. He still suffers from the pain of his mother's disappearance when he was thirteen and believes that his pursuit of truth and love will somehow lead him to God. The decisions of another billionaire's son (Cameron), who is running from God, are used as a catalyst for Oscar's discoveries and a change of heart.
As a writer, I also find it important to be relevant and true to life without ignoring our spiritual needs and desires. I have studied, philosophy, religion and literature and in the end I'm faced with one great question, "What do I do with The Christ?" Was he mortal or was he divine? He has proved himself to be divine and personal to men and women throughout the ages – the good, the bad, rich and poor alike. He said, "I am the way to the Father." And it is this Father who sees us all as his own sons and daughters, no matter what we do. I hope you have an opportunity to see the show somewhere in the world and enjoy the stories that lie therein.
Look into this story
and look beyond your own
Into the face of God
He is your open door
He'll show you what life is for
His love will rain
Into your world
And show you a place
To be discovered
On the other side
of the veil