The Passion of the King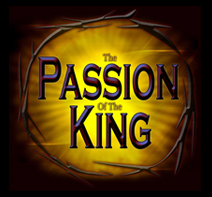 The Passion of the King is the precursor to The Passion and the Cross. This musical is told from the vantage point of a modern day Thomas, who becomes the disciple Thomas, known as "doubting Thomas." He is an immersed onlooker, beginning at key Old Testament events. Peter and John guide him on their journey to the time of Abraham, King David, the prophet Isaiah and finally the time of Christ. This is a two act 2.5 hour musical. It ran for 10 consecutive seasons in Connecticut to virtually all sold out crowds. A video of our 10th season will be available Easter of 2020.
The Passion of the King is an epic and comprehensive musical about God's plan for humankind. The scriptures come alive as the audience is taken on a journey through time to observe the beginning of a new Kingdom. Learn how God prepared the world and the hearts of people for the coming King of Kings, Jesus Christ.

Discover why He was called the Lamb of God and proclaimed as the Lord of all. See and feel His compassion for the masses as He goes against the tides of culture and tradition in order to heal the brokenhearted. Find out why He changed the world. Journey with us to the time of the most influential person in human history.